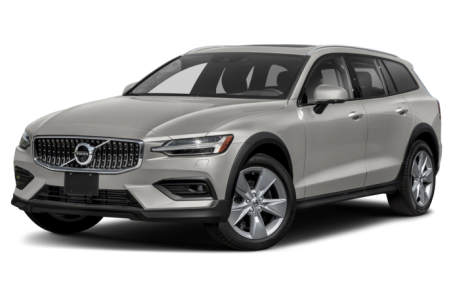 Don't Overpay for Your New Volvo V60 Cross Country
Overall Rating: 4.4

(out of 5)
80% of consumers (4 of 5) said they would recommend this vehicle to a friend.
Love my new car
by MeJane from Scarsdale, NY | February 26, 2020
I test drove other luxury brand station wagons and the Volvo was the nicest by far. Best interior, smoothest drive and best technology. Love my car.
Volvo V6CC and exceptional value...
by NHMelMac from Weare, NH | January 21, 2020
We took a nice long ride yesterday and found it not only to perform wonderfully but we felt as if we could continue hours in comfort!
Disappointing, a step down from previous Volvos
by US36477 from Scranton, PA | December 26, 2019
This is my third Volvo (S40, XC70, V60 Cross Country) and will definitely be my last. The car looks great, I love the edgy sleek look. The interior room and drivers visibility is greatly compromised due to this design. As a matter of fact, there is zero visibility over your left shoulder when passing, due to the placement and thickness of the "B" pillar. My experience with the BLIS (Blind Spot system) is that it does and will fault out and you will probably end up cutting traffic off, you just cannot see without sticking your head out of the window. Rearward visibility is not great, especially because of the less upright and sloping wagon/hatch. The rear window may even be obstructed if you use the cargo cover in the high position (used to hide cargo). I have the turbo T5 model, way underpowered for this heavy of a vehicle. There are four driving modes, I use the default "comfort" setting, which averages about 17-18 MPG (Combined City/Hwy) - a major disappointment. I'd hate to see the performance oriented "dynamic" mode. My former T6 inline turbo 6 (XC70) was much better, actually this is one of the best engines ever produced, with better mpg. This car actually sounds like one of those Subarus under acceleration, quite loud and irritating in the cockpit, even under 3000 rpms, rather unrefined if you are used to the smoothness and refinement of prior Volvo engines. The seats aren't as comfy as former Volvo's, they feel a bit harsh but still are generally comfortable and possibly better than other makes. I'm 5' 9" and about 190lbs with an average/athletic build. This vehicle definitely drives like a car, solid, well mannered in corners and doesn't feel it's riding at SUV/crossover ride height. My vehicle came with Pirelli P-Zero M&S - they are ok under 10k miles, but the Pirelli Scorpion Verde (3 peak snow) tires are so much better for a year round tire. I have a 45-minute work commute mostly highway, I don't get tired and the pilot assist helps but strangely kicks off or doesn't respond at times - I think this is just par for the course as far as semi-autonomous vehicle technology is concerned, the industry needs another 5 years or so to really make significant headway here. It does help reduce driver fatigue. The infotainment system is a joke. Supposed to give a clean, Scandinavian, minimalistic design but the menus and pages are so complicated and cluttered. My prior Carpal Tunnel injury/DeQuervain tendonitis is actually aggravated by holding my hand up, just to page through the screen. (Volvo is supposed to be concerned about health/safety first - ergonomics are a major failure of this vehicle) It looks great but after a few days I've forgotten about the "coolness" of this vehicle and am living with a vehicle I do not look forward to driving. The Sensus infotainment system is still slow to respond, slow to bootup and occasionally freezes up, which is very distracting. I got a decent deal and paid cash for the vehicle but I do hope to be selling it very soon, less than 1000 miles on the odometer. The heated seats and heated steering wheel are a nice touch. I also have the Bowers & Wilkens sound system which is rather nice. Crystal clear audio and a good balance with the "Gothenburg Concert Hall" setting which really just adds a touch of reverb and balances the sound towards the front of the vehicle. The AWD system also works well but truth be told, quality tires matter so much more than AWD so I can't say I've been in a situation yet where the AWD saved me. The cornering LED headlights work well, they are bright, but nothing exceptional nor deficient. Overall this vehicle feels like almost any other new car with a 4 cylinder engine. I'm far from impressed and feel the overall quality is decreasing under the Chinese ownership of Volvo, even thought the styling is worthy of a Stockholm museum display.
Read more reviews
The 2020 Volvo V60 Cross Country is the more rugged version of the regular V60 compact wagon with a three-inch higher ground clearance. It returns redesigned with sleeker looks after a one-year absence. Maximum cargo capacity is 50.9 cubic feet with the rear seat folded down.

It is powered by a 250-hp, turbocharged 2.0-liter four-cylinder engine mated to an eight-speed automatic transmission and all-wheel drive. Fuel economy for the V60 Cross Country is an EPA-estimated rating of 22/31 mpg city/highway.