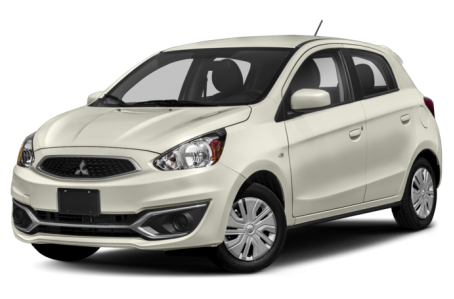 Pricing
Invoice*
$13,493 - $16,625
Don't Overpay for Your New Mitsubishi Mirage
Overall Rating: 4.2

(out of 5)
89% of consumers (34 of 38) said they would recommend this vehicle to a friend.
Most reliable car I have ever owned
by Kathy from Winter Haven, Florida | January 20, 2020
I love my car. It rides smothly. It looks really nice, very sleek and smoth. It comes in a lot of different colors, I got the wine red, which looks like purple.
Great little hatchback, contrary to pro reviews.
by Little Car Convert from Kensington, Prince Edward Island, Canada | December 31, 2019
I have found the car small but mighty. Very good acceleration when needed, great on gas. Handles well in the snow with snow tires. Blind spots are minimal, seats comfortable, stereo good enough.
Basic Transportation that serves its purpose
by Ash from Mississauga,Ontario | December 30, 2019
I have owned a 2018 Mitsubishi Mirage ES Hatchback for over a year. The reason I chose to buy the Mirage was the price and the 3 cylinder engine. There is no other vehicle in North America that has a traditional 3 cylinder engine without turbo. The Mirage is reliable, fuel efficient and more than adequate for a family of 4. Critics have slammed the vehicle as being under powered, basic, anemic and not fit for North America.. The vehicle is never advertised and speaks for itself without having to defend why it exists. The Mirage is a great commuter car. It is easy to maneuver and park. It exists for those of us who look at vehicles as appliances whose sole purpose is to transport its occupants from point A to B I have driven it on the highway. Yes it is light and the 3 cylinder engine, like all the critics state, is quite "buzzy". Road noise is an issue, but for a 3 cylinder engine with 77hp, I had it at 120Km/h with revs around 2700 RPM. The joy of driving this vehicle is rooted in the experience of feeling the road and understanding the sole purpose of the vehicle is a "people mover" and nothing else. I decided to wait a year and half before writing a review too see if what the critics state about the vehicle is true. Most of their opinions hold weight if you compare the Mirage to typical 4 cylinder vehicle like the Micra. A proper review would look at the capacity of the vehicle and make appropriate comparisons. However this would not be possible as there is no other vehicle in the same class as the Mirage, which nullifies all the negative comments about it. Newer vehicles are filled with technological marvels that cushion the ride and electronic gadgets that offer the latest creature comforts. This vehicle is as bare bones as you can get. I opted for the base model without a/c , however as the is was for my wife we settled for the CVT transmission. I would have chosen the manual, but the CVT is not that bad. Fuel economy is unheard of with us averaging around 6.2 liters every 100 km of city driving and 5.3 of highway driving. This is unheard of unless you have a Hybrid vehicle. It is odd when you are on the highway and every other vehicle is a SUV or truck. It's a shame in my opinion that we tend to buy more than we need especially when it comes to vehicles. Vehicle are depreciating assets and it does not make sense to spend a ton of money on them. I know many will disagree with me, however ask yourself what do you use your vehicle for. The majority of you will find out that your vehicle is an appliance that gets you from point A to point B. The only thing that matters is that you have enough space in your vehicle to fit your family and it is safe and reliable. We are not racing around the city. Many of us like to show off our wealth, which is another issues all together. Given the fact that a car is a depreciating asset ,this does not make any sense. I would rather invest the money that I save buying a basic vehicle such as the Mirage over a $60,000 vehicle. Yes I may be the minority and expect many to think of me as a cheapskate. However the Mirage is one of a handful of vehicles that does not need to pretend to be something its not. That is a lesson that many in our world today could learn from.
Read more reviews
The 2019 Mitsubishi Mirage is a subcompact five-door hatchback that competes with the Ford Fiesta, Nissan Versa Note, and Hyundai Veloster. Under the hood, the Mirage is a powered by a standard 78-hp, 1.2-liter three-cylinder engine mated to a five-speed manual transmission or a continuously variable transmission (CVT). Fuel economy for the Mirage is an EPA-estimated rating of 37/43 mpg city/highway.

Four trims are available: ES, LE, SE, and GT. The new LE trim comes with sporty accents and heated front seats.