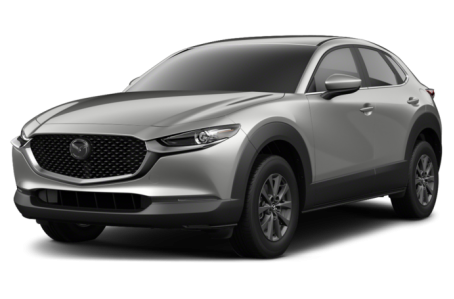 Pricing
Invoice*
$21,275 - $28,747
MPG
City 24 - 25 Hwy 31 - 33
Don't Overpay for Your New Mazda CX-30
The 2020 Mazda CX-30 is an all-new, compact SUV sharing its platform with the Mazda3. In terms of size, it is positioned between the CX-3 and CX-5. The exterior is the latest iteration on Mazda's Kodo design language, but it also includes an abundance of black cladding for the inevitable scratches on more rugged terrain. Maximum cargo space is 45.2 cubic feet with the rear seat folded down.

Four trims are available: Base, Select, Preferred, and Premium.

It is powered by a standard 186-hp, 2.5-liter four-cylinder engine mated to a six-speed electronically controlled automatic transmission. Front-wheel drive (FWD) comes standard, while all-wheel drive (AWD) is available. Fuel economy for the FWD model is an EPA-estimated rating of 25/33 mpg city/highway. It slightly lowers to a 24/31 mpg rating for the AWD model.
Overall Rating: 4.9

(out of 5)
100% of consumers (42 of 42) said they would recommend this vehicle to a friend.
First week with my CX-30
by My1stMazda from Sacramento, CA | October 21, 2020
This is my first Mazda, and I already suspect it won't be my last. The quality of this car vs. the price is really outstanding. I feel like I'm driving a luxury vehicle. It's only my first week with the car, so I can't speak to reliability yet but everything else has been stellar. Quiet, comfortable cabin, plenty of power for my needs (I feel like some of the complaints about this vehicle being underpowered are unfounded. That said, if this is your major concern, the new turbo engine is out this year). Thoughtful design elements throughout. I hate fingerprints on touchscreens, so I actually appreciate the large screen is not touch-enabled and have found the dial and shortcut buttons very easy to adapt to. The exterior styling of the CX-30 has its detractors, but I love the look personally -- just the right amount of class and ruggedness. If you're in the market for a small/subcompact SUV, the CX-30 definitely should be on your list.
I Bought the CX-30 Instead of a Subaru Crosstrek
by Dennis C from Chicago | October 20, 2020
My wife and I LOVE our new Mazda CX-30. I literally look for excuses to drive it. "Honey, we need pickles, I hear there's a great new grocery store three hours west of here, I'll be back tonight" kind of thing. I'm a little over 1k miles after owning the car for not quite three weeks. Before getting the Mazda, we were going to get another Subaru Crosstrek to replace the 2018 Crosstrek we gave to one of our kids. We also really liked that car – the Crosstrek is the perfect size for us, lots of great safety features, it's been super reliable for the first 30k miles. But it has two problems: it's underpowered, and it's noisy, especially at highway speeds. So, when Subaru came out with the bigger engine for 2021, I thought – great! They've fixed the power issue, I can live with the road noise. Then my brother said I should look at the Mazda CX-30. I did, and I drove it. I went back to drive it again, then I drove a 2021 Crosstrek Sport, then went back and drove the Mazda. Hands down, the Mazda was the better driving car. It's quick, quiet, comfortable, great handling. Re the comfort – before buying the CX-30, I watched about every review on YouTube there is for the vehicle. There were a couple that complained about the front seats, especially the passenger seat. I have no idea what they're talking about. I recently drove it for six hours in one day and was perfectly comfortable, and I've previously had back problems and hamstring problems. This car didn't bother my back or hamstring at all. My wife was in the front passenger seat for three hours and found it to be extremely comfortable. The cabin of the CX-30 is way more luxurious than the Crosstrek, and, as mentioned above, much quieter. The CX-30 also has a ton of features the Crosstrek lacks: rain-sensing windshield wipers, power lift gate, memory seats, and heads-up display. All of these you don't think you need, but once you've had them for a day, you will never get a car without them again. My wife and I also both really like the Mazda's infotainment and nav systems, it took no time at all to get used to the dial control; in fact, now, I prefer it. I also really like the location of the screen on the dash, compared to the Crosstrek, which has it lower down. And it's fabulous that navigation directions appear in the heads-up display. The Crosstrek is still a great car. It has three advantages over the CX-30 that I can think of that might be more important to others than they are to my wife and me: 1. More back seat room. If you need more rear-seat room (eg if you will be driving around adults, or children in rear-facing car-seats), you'll probably want to go with the Crosstrek. 2. The Crosstrek also has more ground clearance (I believe about another inch) so it should be better off-road. 3. The Crosstrek also has a much larger gas tank. That's my one gripe about the CX-30 – for some reason, the gas tank is only about twelve gallons, compared to about 17 for the Crosstrek. Initial impression of mileage for me is that the two cars are very similar, or perhaps the Crosstrek is a mile or two better. I just put three quarters of a tank in the CX-30 this afternoon, after a mix of highway and city, and got about 27 MPG. In the crosstrek, I was getting around that, maybe one or two MPG better. All of this is in very flat (non-mountain) conditions. Now, excuse me, please I just heard there's a grocery store a couple hours north of hear that's got mayonnaise on sale.
Premium vehicles
by LisaD from Gilbert,Az | October 12, 2020
Love this car! It's like a luxury car at an affordable price. Safety features brought my insurance down from my old 2002 vehicle! Performance is wonderful!
Read more reviews