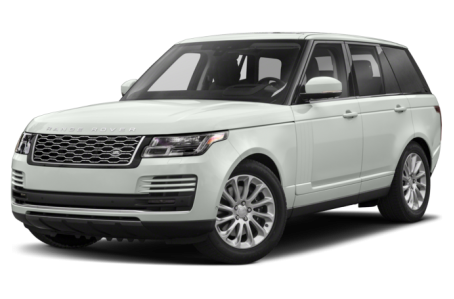 Pricing
Invoice*
$85,446 - $196,930
Don't Overpay for Your New Land Rover Range Rover
Overall Rating: 4.5

(out of 5)
75% of consumers (3 of 4) said they would recommend this vehicle to a friend.
Nice car
by ml from Miami florida | May 29, 2020
Nice because car drive smooth and fast love everything about it I am so happy black on black inside and out very happy.i will buy another one
THE BEST OF THE UK
by SECURITY OFFICER '' SMOKEY '' from racine , wis | May 22, 2020
i have had quiet a few land rover range rovers over the years 1 1960 1 1996 2 2011 1 2012 so far that is 5 but as of 05 / 22 / 2020 i bought my 6TH land rover range rover this is by no means lacking luxury style or safety this model has it all and more being 39% british myself i gotta hand it to my fellow brits in the UK when it comes to top shelf quality LAND ROVER is the go to luxury GOT IT style GOT IT safety GOT IT everything one needs plus the tons of high tech gadgets it has with it it's worth every penny and everyone will beg you to get a closer look HAPPY HUNTING ALL and CHEERS to my fellow brits and LRRR owners
Disappointed - car not ready to be sold
by John L. from Orlando, FL | March 01, 2020
I was very happy with my 2010 and 2012 Range Rover HSE vehicles, they were beautiful, and drove so smoothly in all 3 areas of acceleration, braking, and steering. I cannot say this about the 2020 Range Rover. Furthermore, basic interior amenities and luxuries are missing in the 2020 model. First, I will start with what I like about the 2020 Range Rover HSE (p400): -The exterior styling is phenomenal. This is a great looking vehicle. (see attached picture) -The HUD display is a great addition. -The door locks activated by finger touch is really nice. -The control over the ambient lighting is a neat luxury wow factor. -The panoramic sun roof with auto-sun shade is neat. -The position of the chair adjustment controls on the door where you can see it is much better than were it used to be on the side of the seat. -The materials used on the interior are very luxurious -The general design of the interior is nice (with exceptions noted below) Now, the longer list of what I don't like about the 2020 Range Rover HSE (p400): DRIVE-ABILITY: -Accelerating...In regular drive mode, it shifts 4 times in 4 seconds going from a stop to less than 20 MPH like when leaving a parking space and just driving down the row. Each shift is noticeable in lack of smoothness and is entirely unnecessary. At this speed, in moments you will be pressing the brake and then it will downshift 4 times, so 4 upshifts and 4 downshifts in 8 seconds, that makes for a miserable experience. Even if you were decelerating and then at 25mph press the gas pedal slightly, it will very abruptly downshift and delay applying acceleration and then almost seemingly to make up for the delay, really aggressively applies acceleration. -Decelerating....when going about 12 mph, letting your foot off the gas and waiting 3 seconds, the car down shifts in such a pronounced way that it feels like the brakes are being pressed. There are two people driving this car - me and the transmission. In summary, apply the acceleration and deceleration issues together and that is what you experience in regular traffic, this car spends way to much time shifting up and down, and it is especially a problem when you are slowing down and then speed up, it gets really confused, and behaves very badly jerking the car. It is not a luxury smooth experience. -Auto engine off. The feature were the car shuts its engine off when you are stopped and have your foot on the brake, and automatically starts the engine back up when you take your foot off the brake pedal is not a smooth or luxurious experience. It is the opposite, the extra rumbling and shaking of the car as the engine goes from 0 rpm to 800 rpm and at the same time engages the transmission is very miserable. HANDLING: -The handling in the 2020 is not as tight as the 2012. In the 2020, under minimal breaking and turning, the body dives and rolls, this is especially noticeable, at low speeds. The 2012 handling was luxurious and smooth with very little body roll. The 2020 feels like it is heavier and higher from the ground, although apparently it weighs less. INTERIOR: -There no longer is a Sunglasses holder, or anywhere like an open exposed cuby to set them. -The Glove box won't stay open, why the heck would it be designed that way? You have two use two hands to hold it open while you try to grab something out of it with your other hand. -There is no visible accessible storage without having to open compartments which makes trying to put an item away or retrieve an item a real chore. -The touch screen is slow to respond. Often you need to make a point to press and hold for a second just to make sure it registered your press. I've contacted Range Rover about this all and they just say that is the way the car is designed and there is nothing wrong with its behaviors. Ugh. The frustrating part is that you don't really notice the problems until you do a lot of braking and accelerating at low speeds (below 25 mph) which you only do in rush hour bumper to bumper slow traffic which you don't get to test when at the dealership.
Read more reviews
The 2020 Land Rover Range Rover is a five-passenger luxury SUV with two wheelbase versions: the standard wheelbase (115-inches) and the long wheelbase (122.8-inches). It has an aluminum, lightweight construction for improved fuel efficiency and maximum cargo/towing capacity of 82.8 cubic feet/7,716 pounds.

Three engines are available for the standard wheelbase Range Rover: a supercharged 3.0-liter V-6, a turbo-diesel 3.0-liter V-6, and a supercharged 5.0-liter V-8. The supercharged 5.0-liter V-8 is the only option for the long wheelbase Range Rover. All engines are mated to an eight-speed automatic transmission and four-wheel drive.