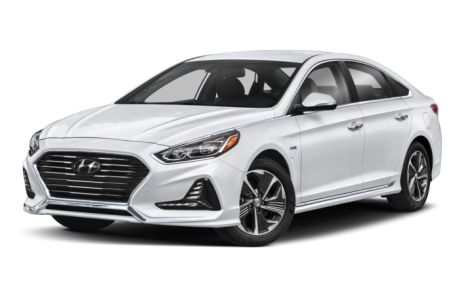 Pricing
Invoice*
$31,810 - $37,074
Don't Overpay for Your New Hyundai Sonata Plug-In Hybrid
Overall Rating: 3

(out of 5)
50% of consumers (1 of 2) said they would recommend this vehicle to a friend.
Nice Car
by David from Riverside, California | October 31, 2019
This car met my expectation, engine HP 2.0 make the car run better than any-other car same category. I bought it used but CPO, so I have same warranty as new owner. I still think it is little expensive but all EV car are way too expensive. the EV range only 27 mile. I consider that a small range but I can drive in carpool for 5 years which great! Cargo space is small for a family size.
Disappointing
by Dr_Nex from San Diego, CA | April 06, 2019
There is a lot to like about the car but also many issues holding it back. The things to like are the same as in the regular Sonata sedan so I won't go into them much (lots of passenger room, stylish exterior, nice technology options, etc.) Now the downsides. First, the all-electric range is very poor at 28. That's just not competitive for a 2019 PHEV. The gas mileage at 39 combined EPA MPG is much worse than the non-plug-in Sonata hybrid (probably because the car is much heavier), and in my own driving, I'm only getting about ~30 highway mpg (less in the city) which is nowhere near the advertised EPA MPG — frankly, I'm considering suing Hyundai over this issue because the advertised EPA estimate is so unrealistic. The cargo space is absolutely abysmal. The car is huge and thus difficult to park, but has a tiny trunk and barely any cargo space (since much of the space between the trunk and the passenger area is occupied by the battery). The trunk is thus much smaller than in the regular Sonata. The lane keeping assist is, simply put, TERRIBLE. The car doesn't keep lanes well in active mode and actively fights the driver, and even in standard mode is frustrating. I've disabled it entirely. Perhaps my biggest complaint is the abysmal lack of torque. This is a heavy car and really lacks accelerating power. For supposedly having ~200hp, this car really doesn't feel like it. It is very slow to accelerate, even out of Eco mode. And when the engine downshifts (which it does very frequently, especially with cruise control since the engine is so underpowered in relation to the weight of the car), it is extremely loud and the gas mileage drops to around ~10-15 mpg. The car corners poorly, even with lane keeping assist disabled. It lacks a HUD, which at this price it should really have. It also lacks a 110V power plug, which many cars in this price range offer, and wireless Apple CarPlay is nowhere to be found. No sunroof option is available, even though the non-plug-in hybrid and non-hybrid versions have available sunroofs?? Sedans are dying and the Sonata PHEV shows why. To add to all these disappointments, the car has a $40K MSRP (plus taxes and dealer fees, which can be significant depending on state). There's a $1500 Hyundai rebate right now, and then there are the federal and potentially state rebates, but I think something like the Kona EV is a much better car, and not much more expensive (in fact, some trims are cheaper). For that, you get ~240 miles of EV range, a heads up display and sunroof on some models, much larger federal and state tax rebates, wayyy more torque (much lighter car since no internal combustion engine), wayyy more cargo space, a much more fun car to drive, a car that's much easier to park while still having plenty of interior room, much cheaper maintenance (since no internal combustion engine so no oil changes etc.) and a car that is much cheaper to operate and more environmentally friendly (way better eMPG and no abysmal gas MPG like with the Sonata PHEV). I regret buying this instead of the Kona EV (which was sold out everywhere at the time of my purchase). I can't comment on reliability since it's a new car, but the warranty is definitely nice and gives me peace of mind. Still, at $40K plus tax, I would take a hard pass on the Sonata PHEV for the reasons described above. (Resale value is also likely to be quite poor because used cars are not eligible for the ~$5000+ in federal and state rebates.) Even at $30K for the limited trim, I wouldn't consider this car. The Sonata may be a good car and the Sonata Hybrid may be a good hybrid (I wouldn't know), but the Sonata plug-in-hybrid is just not.
Read more reviews
The 2019 Hyundai Sonata Plug-In Hybrid is a more fuel-efficient version of the regular Sonata mid-size sedan.

Two trims are available: Base and Limited.

Powering the Sonata Plug-In Hybrid is a combined 202-hp, 2.0-liter four-cylinder engine and an electric motor mated to a six-speed automatic transmission. It has a 28-mile pure electric driving range.