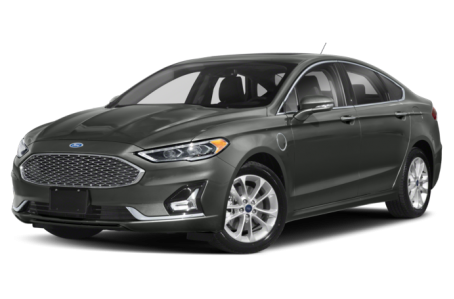 Don't Overpay for Your New Ford Fusion Energi
Overall Rating: 4.8

(out of 5)
100% of consumers (4 of 4) said they would recommend this vehicle to a friend.
Nice Car - glad we got it
by JamesLF from Maricopa, AZ | January 12, 2020
We have owned the Fusion for about 30 days. So far the car has met our needs in almost every way. Our hope is to get it set up to flat tow it behind our RV and this vehicle is able to do that per the owner manual. We like the all electric option though it would be nice if it stored more kw for longer EV driving. Others will probably comment about the really small trunk. For our needs the small truck will be fine. A really big plus is how quiet the car is compared to our 2015 Prius. We also like many of the interior options like heated/cooled seats, Apple Car Play and 2 seat memory. The Energi is NOT hotspot capable. We do like the exterior styling with the LED lights throughout and all the safety features and sensors. So far we are happy with our purchase and would do it again.
Disappointed in the Battery
by Victor from Nashville, TN | December 12, 2019
I have owned my 2020 Fusion Energi for about 2 weeks now. I love the car. The inside is great and comfortable. My battery has not lasted 26 miles yet. Went to the airport yesterday, which is 23 miles away, and only got 19 to 20 miles out of the battery. Worse yet, all the charging spots were taken at the nashville airport. It's December and a little cold, so maybe that hurts the battery. Takes a LONG time to charge on a regular outlet. 7 hours at least. I'm ordering the bigger/faster plug to cut that down. 7 hour charge and only 20 miles makes it feel like a line to a Disney ride. The truck is very small also. I love everything else about the car. Unfortunately the main reason I bought it was to run on battery in the city. I'm not getting 26 miles.
Luxury PHEV for a non-luxury price!
by NathanNNH from Indianapolis, IN | December 06, 2019
I was in the market for an EV or PHEV before the end of 2019 to lessen my federal tax burden. It's nearly impossible to find one in the Indianapolis area.. there was one Nissan Leaf, but no Hondas within 600 miles. There were lots of GMs, but with their tax credit already phasing out it wasn't on my list. The Nissan dealer wouldn't come off of full MSRP on the Leaf, but a Ford dealer in the greater Chicago area was selling the 2020 Fusions at practically employee pricing before another $1750 in incentives. That put this car at 10k under MSRP after the federal tax credit, a couple grand under the Clarity with its credit or 10k under the leaf with its credit! With all that having been said, not only is this the cheapest PHEV or EV option, it's the most luxurious. The Titanium is loaded with heated and cooled leather seats and Ford's co-pilot system that includes adaptive cruise control, lane keep, etc. My commute is right at the range of this car, so if I plug-in at home and work, I use just a smidgen of gas. After seeing lines of cars waiting for hours to quick-charge their EVs over the Holiday weekend, I'm still worried about how a full EV might limit my ability to travel. It would be great to have more trunk space, but it's honestly rare that I need to fill a trunk full of stuff. It would also be great to have longer range, but with 25 mile commute it works out perfectly for me. More capacity = more weight.. and this car's current capacity gives it more legroom at less weight than the Clarity.. in my opinion the Fusion PHEV is a better looking, more luxurious car at a better price (even taking into account the tax credit difference).
Read more reviews
The 2020 Ford Fusion Energi is the plug-in hybrid version of the regular Fusion mid-size sedan. Ford claims it can be charged in seven hours with the standard 120V charge cord.

It is powered by a 188-hp, 2.0-liter four-cylinder engine and an 88-kW electric motor mated to an electronically controlled continuously variable automatic transmission. It has an EPA-estimated rating of 109/97 MPGe city/highway. Pure electric range is estimated at 25 miles.