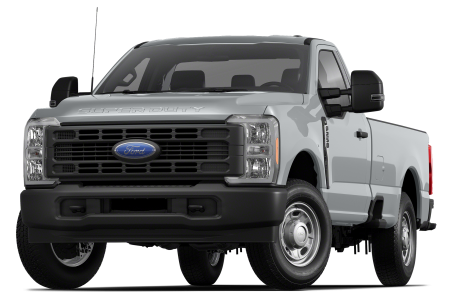 Pricing
Invoice*
Information not available
MPG
Information not available
Don't Overpay for Your New Ford F-250
Competes with: Chevrolet Silverado HD, GMC Sierra HD, Ram 2500/3500 HD

Looks like: The old Super Duty with the global Ranger's front end

Drivetrains: 6.8-liter gasoline V-8, 7.3-liter gasoline V-8, 6.7-liter Power Stroke diesel V-8 or high-output 6.7-liter diesel V-8; 10-speed automatic transmission; rear- or four-wheel drive

Hits dealerships: Early 2023

Here's an interesting statistic for you: Ford generates more revenue from sales of the Super Duty heavy-duty pickup than many Fortune 500 companies do from their operations, including Southwest Airlines, Marriott International or clothing retailer Nordstrom, as reported for 2021. That makes Ford's big pickup an absolutely critical factor in the automaker's bottom line and helps you realize why Ford puts so much effort and importance into redesigns of the truck. And looks like it's time for another one, as Ford has taken the wraps off the refreshed 2023 Super Duty pickup at an event at Churchill Downs Racetrack in Kentucky. It's a mild refresh for the truck, with some new styling, new powertrain options, new interiors and updated technology, all of which are designed to keep Ford's popular workhorse pulling its weight across America's highways and worksites.

Styling Is Nice, But Not the Point
The Super Duty's overall look remains largely the same as the outgoing model, but there are some subtle tweaks and changes to just about every body panel to make for a cleaner, more modern look. Most noticeable are the grille and headlights, which now resemble the photos we've seen of the global version of the next-generation Ford Ranger (which is not yet on sale in the U.S.). There are six trim levels to choose from — XL, XLT, Lariat, King Ranch, Platinum, and Limited — plus different grille options and packages that affect the truck's looks as well, such as the STX, Sport and Black Appearance packages.

Functional changes to the truck's look come with the new XL Off-Road Package, available on F-250 and F-350 4×4 single-rear-wheel trucks, which adds 33-inch tires, a raised air dam, skid plates, water-fording axle vent tubes and an electronic locking rear differential. The Tremor Off-Road Package also returns for 2023 with a unique suspension, 35-inch Goodyear tires, a front-end lift, a Dana front axle with limited-slip differential and axle vent tubes, and unique 18-inch wheels. For the first time, the Super Duty Tremor will add Trail Turn Assist, which selectively brakes a single wheel of the truck to allow for super-tight turning in off-road environments.

Updates Where It Counts
More important to the Super Duty than its styling are its abilities, which are enhanced for 2023 by the addition of two new powertrain options. The new standard engine is a 6.8-liter gasoline V-8, but we don't have any horsepower or torque numbers for it yet (Ford hasn't released them for any of the truck's powertrains). Optional will be a larger carryover 7.3-liter gasoline V-8. The base turbocharged 6.7-liter Power Stroke diesel V-8 also carries over from 2022, and a new high-output 6.7-liter diesel V-8 benefits from a water-cooled turbocharger and upgraded exhaust manifolds.
Of course, the automaker says it's targeting best-in-class status for its powertrains, but we still need to see what the official numbers are. All powertrains now pair with a standard 10-speed TorqShift automatic transmission; the base engine's old eight-speed auto is gone. And perhaps more interestingly, Ford says that four-wheel drive is now going to be standard on all trim levels from the XLT on up.

But most of the automaker's attention has been focused on the Super Duty's on-board technology, which is getting some useful enhancements. Of note is the availability of the Pro Power Onboard generator system, which enables the truck to power tools at a jobsite, a small camper or a tailgate party. Given that the vast majority of Super Duty owners buy them for towing, that's one big area that Ford has improved for 2023 — although absolute towing capacity numbers have also not been released. So while we don't know how much the new Super Duty can tow, we know what the automaker has included to make the experience easier, which is arguably more important than the numbers themselves.

It starts with the inclusion of the Onboard Scales with Smart Hitch feature, which estimates cargo weight in the bed and trailer tongue weight distribution, then displays that information on the central touchscreen, on the FordPass phone app or in the LED strips on the taillights. There's a new 360-degree trailer camera system that, with the inclusion of several accessory cameras that the customer mounts on the trailer, displays a full surround view of not just the tow vehicle, but the trailer itself, useful for navigating in tight spaces.

The blind spot information system for fifth-wheel and gooseneck trailers is also new and again requires some accessory sensors to integrate a blind spot monitor for the trailer into the truck's existing system. Need to put the tailgate down to hitch up that gooseneck? Hitching up will be made a lot easier thanks to an industry-first Tailgate Down Camera and Tailgate Down Reverse Sensing System; essentially, Ford put a camera and sensors into the top of the tailgate, which activate when the tailgate is down (why has nobody done this before?).

Additionally, a new trailer navigation feature for the navigation system can calculate a suitable route for you based on the truck and trailer dimensions and weight, avoiding things like bridges that are too low or corners that are too tight. But perhaps the most exciting new feature might be the Pro Trailer Hitch Assist (or as some might call it, a "marriage saver"), which uses the backup camera to help identify the trailer's hitch ball then automatically backs the truck up perfectly aligned on the ball, with the driver just needing to operate the pedals.

New Digs Inside
While the exterior styling gets some minor tweaks, the interior gets a thorough redo, with materials quality up across the board and the top trim levels getting a taste of the luxury appointments seen previously in the F-150. A new 12-inch customizable digital gauge cluster is standard, and another 12-inch touchscreen display comes standard on the XLT trim and up, while the base XL trim gets an 8-inch touchscreen. For the first time, a full-color head-up display is optional.

Max Recline front seats are now an option on top trim levels and recline to a nearly horizontal position, as Ford says that a number of Super Duty owners actually do nap in their trucks. If they instead want to host a dance party in their truck, a choice of an eight-speaker Bang & Olufsen sound system or an 18-speaker B&O Unleashed sound system is available.

Safety tech gets a bump as well, with Ford now offering intelligent adaptive cruise control with stop-and-go and lane-centering features. Front and rear sensing systems are available, as are front and rear brake assist that prevent low-speed collisions. A trailer theft alert function will notify the truck's owner via the FordPass app if someone disconnects the trailer from the Super Duty when the truck is locked, and a host of other fleet-management features can also be had with a subscription to Ford Pro Telematics.