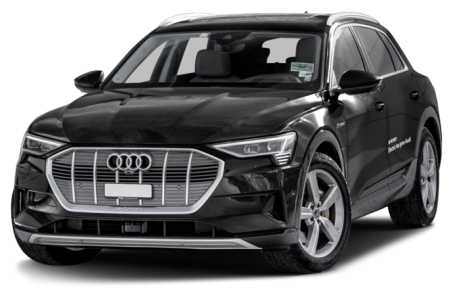 Don't Overpay for Your New Audi e-tron
Overall Rating: 4.3

(out of 5)
64% of consumers (9 of 14) said they would recommend this vehicle to a friend.
Genuinely one of the best cars I've ever owned
by ACuculich from Los Angeles, CA | February 25, 2020
WIth the electric car revolution upon us, it's great to now have options, that are more suited to most of our tastes, and that aren't going to cost an arm and a leg. I've been an Audi fan for years, and cannot move away from their lineup. the e-tron was my 7th Audi that I've owned, and it has totally spoiled me for anything in the future. The cockpit and MMI system is rival to none. It's so easy to use, and sleek and ergonomic. The electric ride of the car is an instantaneous go with a tap of the pedal. The ride is smooth, like all of the other Audi cars, and is just fun to drive. Especially on long hauls. You really feel like you're in a comfortable SUV, able to load and go with any and all you need. Charging stations are everywhere, so you never have to worry about making it to the next charger. Heated/Cooled seats, climate control, entertainment, leather seats that hug you, navigation at voice command, Alexa to control every aspect of your drive, you name it, this car does it. You will absolutely love this car!
ETRON!!!
by Rick O from Fairfax, VA | February 17, 2020
The ETron by Audi is one of the most comfortable, innovated, and awesome car in the market. The driver assistance package is great and it recognizes the environment while driven.
Etron Troubles
by Mike K from Boston | February 05, 2020
In my 3rd month of ownership - I drove it for about 20 days - it's now been at the dealer for almost 45 days - been at dealer since dec 26. Now Feb 5 - battery cooling mechanism was defective - think it has about 1500 miles on it - battery won't charge anywhere near the 205 miles - set at 100% will only charge to 161-175 ish miles - been trying to work w Audi with ZERO response - sensors and now the back taillight panels have shorted out I think the battery got cooked when the cooling somehow failed so now it won't charge up and the electronics seems to be getting smoked. Dealer of course can't fix and on charging they say 170 miles on 100 percent charge is fine. Not really and if that's the case it should be discussed in sales process. I've given up. Car is sharp but lousy with the tech. At purchase Audi was quick to bash the Tesla range as unrealistic and said their 204 miles was " real world" as people would use the car. NOT TRUE. Not only does it not charge to anywhere near 200 miles god help you if you want heat or use the headlights. I think the real range - if you are just using minimal heat/phone charge and want to drive at night - is maybe 150. But mine it's more like 120 since full charge is say 170 Dealers are completely unable to service these cars and think this is a great example of a car being rushed into production to capitalize on growing sales trends. I've called Audicare (those people are saints), the dealer, and have even tried to get to Dan Weissland the president of Audi USA with zero responses. I feel bad for the service folks - they are trying to tow the company line but are empathetic given their lack of ability to service or explain the drop off in charging. This was my 4th Audi I've owned and always loved the cars/brand. My last car was a 13 q7 diesel and when the diesel scandal hit friends would ask how bad it was to deal with - and I sang the praises of Audi in how they handled and fixed my car - and told them Audi made it easy. In retrospect I think that's because they were sued and the courts and US government forced them to handle it appropriately. Left to their own devices (like with my etron) they could care less. Spend a LOT of time researching and would wait a few years if you're determined to own the Audi (they are sharp). If you have to get one sooner id demand the 120k warranty thrown in. Based on my experience you'll need it - can only imagine the issues once the car is a coupe years old.
Read more reviews
The 2019 Audi e-tron is an all-new, all-electric mid-size SUV that seats five passengers. It is powered by two electric motors and a 300-kW battery that produce 402-hp and 414 pounds-feet of torque. It has a towing capacity of 4,000 pounds. Maximum cargo volume is 57 cubic feet with the rear seats folded down.