NewCars.com is a member of the Better Business Bureau.
NewCars.com
701 Santa Monica Blvd. suite 310
Santa Monica CA 90401
About NewCars.com's Free Car Quote Service
For over ten years, NewCars.com has been one of the nation's leading sources for online car quotes and vehicle information.
Our business model is simple: by enabling local car dealers to compete for your business, we save you hundreds, even thousands of dollars.
We partner only with the most dependable dealers and charge no fees for our service. We don't have to. We've seen it time and time again — dealers will fight hard for your business.
You no longer need to leave home to find the best price on your new car. Before you head out for a dealership, request our free, no-obligation car quote:
Why enter my ZIP code?
Our state-of-the-art technology uses your ZIP code to find accredited dealers in your area that can sell vehicles below sticker price.
Corporate Overview
Founded in 1995, NewCars.com has long been a leader among automotive sites. We have a rich history of innovation and delivering value to online shoppers and the automotive industry. Over time we have developed great expertise in Search Engine Marketing and created a separate division called CPC Logic to serve the automotive industry. Our clients include Ford, GM, and Nissan, as well as many local dealerships. Both NewCars.com and CPC Logic are based in our Santa Monica, CA offices.
In 2005, we were purchased by cars.com. Partnered with more than 200 leading metro newspapers, television stations and their websites, cars.com is the most comprehensive destination for those looking to buy or sell a new or used car. Cars.com itself is a division of Classified Ventures, LLC. Based in Chicago, Classified Ventures is owned by five leading media companies - Belo Corp., Gannett Company, The McClatchy Company, Tribune Company and The Washington Post Company.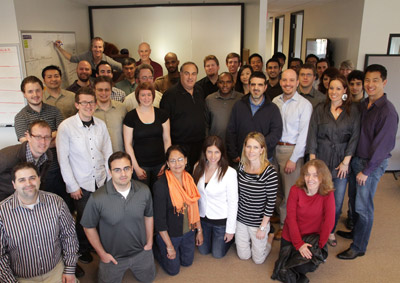 The Santa Monica Team
Field Sales Team