For the first time in the history of the J.D. Power Initial Quality Study, domestic car makers beat their European and Asian rivals in vehicle reliability. Toyota, long the king in reliability for non-luxury brands, dropped 15 places while Ford moved into first place.
However, European and Asian
luxury
brands still lead the way when it comes to reliability. Porsche, Acura and Mercedes-Benz took the top three spots on the survey with less than 90 problems per hundred vehicles (PP100). But as a group, American car makers have been able to catch their European and Asian rivals over the last decade as the chart below indicates.
The J.D. Power study asked buyers to report repairs or reliability problems they've had during the first 90 days with their new 2010 cars. The survey was conducted between February and May, coincidentally the same period when Toyota recalled millions of their vehicles due to braking and acceleration problems.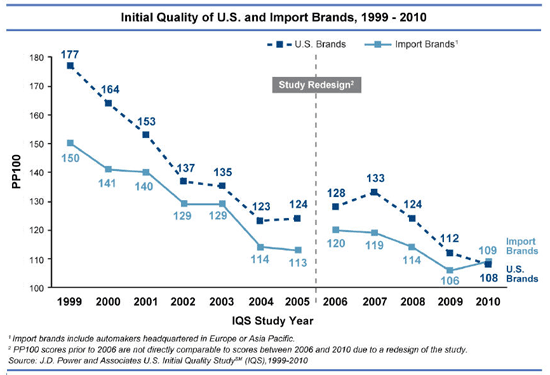 American Car Reliability: Upping Their Game
Ford won first place among non-luxury brands, just ahead of Honda, with a score of 93 PP100. Overall, Ford brands (including Volvo) had more models in the top three spots in their market segments (12) than any other corporation.
Overall the GM brands lost some ground in 2010 — Cadillac tumbled nine spots, GMC dropped seven, and Chevy dropped three places. Yet even with these losses, many of the American nameplates — Ram, Cadillac, Chevrolet and Buick — were quite close to the industry average of 109 problems per hundred.
Toyota and the Perception of Brand Reliability
With more than 8 million vehicles recalled over the past year, it's not surprising that Toyota dropped to 21st place with a score of 117 PP100. And it appears that the media hysteria over the recalls may have impacted problem reporting — many of the Toyota problems were brake and floormat issues. In all likelihood, Toyota will have tackled most of its reliability issues by the time their 2011 models start rolling out so it may climb back in the rankings.
A longer term problem will remain though. Fewer Americans buy into the mindset that Asian brands are simply more reliable. In fact, Asian brands including Mazda, Scion, Subaru, Suzuki, Kia, and Mitsubishi, scored well below the industry average. Honda and Toyota used to be the Energizer Bunnies for car reliability. No more.
This turn of events is quite healthy. If customers are loyal to a brand that can't deliver, that hurts the customer — and ultimately the brand. Lots of brands have had to fight their way back from a bad reliability rep and are better for it. And if Toyota and the American car makers are refocusing on reliability, that's good for everyone.
J.D. Power press release and graph