This is the fourth in a series of articles focusing on fuel efficiency.
Previous articles:
A recently released study from J.D. Power and Associates cited fuel economy as the number one factor for car buyers in 2011, beating out other considerations like price, style, and reliability. With gas prices once again on the rise we predict that gas mileage will be just as important in 2012, no matter what kind of car you're in the market for. Keeping that in mind, we set out to pick the best fuel efficient cars according to the different needs of car buyers.
In this article, the fourth in our "Best Fuel Efficient" series, we'll take a look at the best cars for getting out and about in the great outdoors.
While fuel efficiency was the primary criteria, we also considered other factors such as price, features, and four-wheel drive systems when making our decisions. So without further ado:
Best Crossover:
Crossovers have become increasingly popular over the past decade; in fact most of the SUV-looking vehicles you see rolling around today are actually crossovers (SUV body on top but a passenger car wheelbase underneath). Most people heading into the outdoors won't be doing much traveling over really harsh roads where you'll need great ground clearance or true four-wheel drive. We highlight three crossovers that offer plenty of cargo space, three-rows of seating, and of course, fuel efficiency.
Winner:
2012 Ford Explorer
Price: $29,275
Fuel Economy Ratings: 20 mpg city/ 28 mpg highway/ 24 mpg combined*
After the Explorer got a full redesign in 2011, it promptly went out and won the North American Truck of the Year award. For 2012 things get even better. It adds an efficient EcoBoost engine which gives the Explorer the top spot on our list. EcoBoost is simply Ford-speak for the addition of a turbocharger and twin independent variable cam-timing to the engine. The method might sound complicated, but the goal is simple: to provide an engine that offers the fuel economy benefits of a smaller engine, while delivering the horsepower/torque of a larger engine. We think it succeeds in that; the 2.0-liter four-cylinder delivers 240-horsepower and 270 pounds-feet of torque, while still returning 28 mpg on the highway which tied the Highlander Hybrid for the top marks on the freeway and beat all the other gas-only contenders by a fair margin. Keep in mind that the Explorer's base engine is still the V-6. Equipping the EcoBoost engine adds $400 to the base price, and is reflected in the figure we listed above. Inside, the 2012 Explorer comes with air conditioning, auxiliary input jack, and Ford'ss MyKey® system, which allows parents to set the Explorer's top speed and audio volume, as standard features. As with most Fords, the Explorer comes with plenty of tech options including MyFord Touch®, SYNC, a USB port, navigation system, and HD radio.
Runners-up:
This was the best three-row crossover by a healthy margin when it came to fuel economy, thanks to its hybrid system that outputs a combined 280-horsepower. The Highlander Hybrid also comes with a standard all-wheel drive system, where the gas engine powers the front wheels while an additional electric motor powers the rear-wheels. It's also got more standard features than the Explorer, including Bluetooth, a USB port, and backup camera. All this will cost you however; the Highlander Hybrid is over $9,000 more than the Explorer.
2012 Honda Pilot ($28,470; 18 city / 25 highway / 21 combined mpg)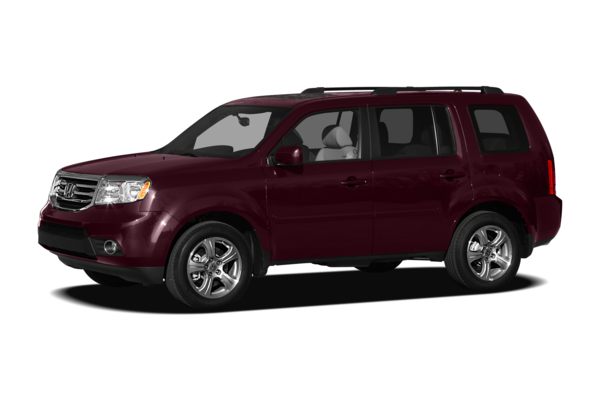 The eight-passenger Pilot got a few changes for 2012 including a restyled front end and most importantly, a few fuel economy improvements such as better aerodynamics, engine friction reduction, and low rolling-resistance tires that allow the Pilot to get 25 mpg on the highway. It is also priced very competitively and beat the other contenders when it came to fuel economy, save the Explorer and the Highlander (non-hybrid). But the Highlander featured a weaker four-cylinder engine and we didn't think that the trade-off in power/performance merited its inclusion.
Best Off-Road (4WD):
For true off-roading nothing beats a good old fashioned SUV with box on frame construction and legitimate four-wheel drive. These three combine off-road proficiency with fuel economy and know that it's not just enough to get you out into nature — they'll get you all the way back as well.
Winner: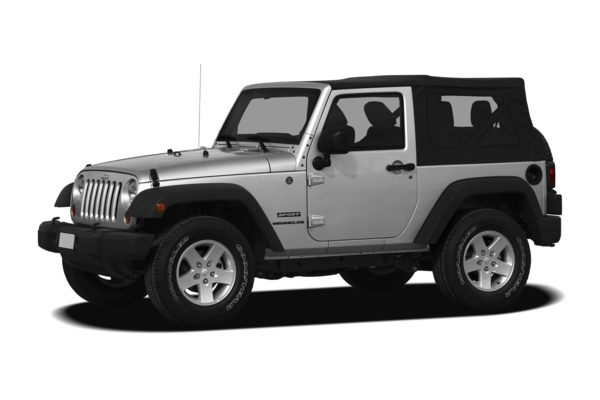 2012 Jeep Wrangler
Price: $22,045
Fuel Economy: 17 mpg city / 21 mpg highway / 19 mpg combined
One of the few vehicles that's ready for whatever you can throw at it the moment it rolls off the lot, the Jeep Wrangler also presented the best value both when it came to saving money at the pump and MSRP. The 2012 Wrangler gets a new powertrain, including a 285-horsepower, 3.5-liter V-6 that represents an improvement of 83-horsepower from the previous year. If that wasn't enough, there is also a new five-speed automatic transmission that helps to provide improved acceleration on pavement and a lower first-gear ratio for better crawling off-road. It all adds up to a more powerful and more capable Wrangler that also gets improved gas mileage (it hits the mpg marks listed above with either the automatic or the six-speed manual). The cabin is admittedly pretty basic, especially in base trim levels. But the Wrangler's off-road capability more than makes up for it, with a standard four-wheel drive system (it's optional on our other contenders) and plenty of customization options for the suspension. For those who want more doors/seating, a four-door version of the Wrangler is also available, called the Wrangler Unlimited, which does take a slight hit when it comes to fuel economy.
Runners-up:
2012 Toyota 4Runner ($34,165; 17 city / 22 highway / 19 combined mpg)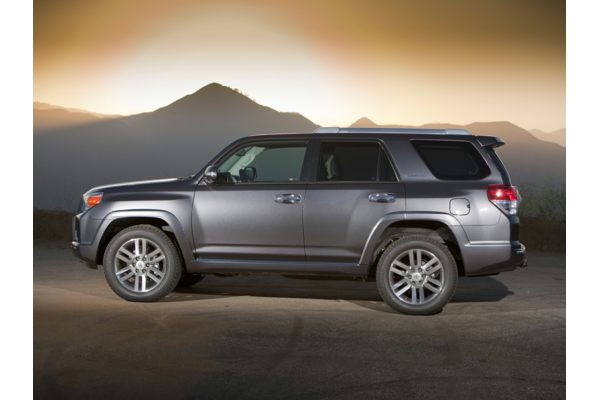 The 4Runner ably combines off-road capability with passenger space/capacity and of course, fuel economy. While the Wrangler is very minimalist when it comes to creature comforts, the 4Runner is a more comfortable way to get outdoors. Under the hood is a 270-horsepower V-6 that combines with a five-speed automatic to urge the 4Runner onwards. The 4Runner offers a pair of available four-wheel drive systems, both optional.
2012 Toyota FJ Cruiser w/ Automatic ($28,465; 17 city / 20 highway / 18 combined mpg)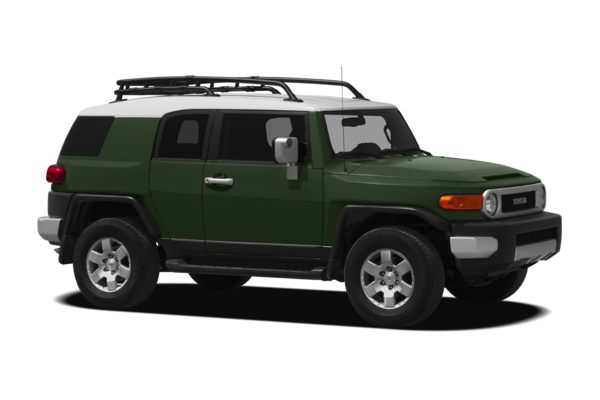 Rounding out the list, the FJ Cruiser makes it a pair of Toyotas amongst our runners-up. The retro-styled FJ Cruiser harkens back to the original FJ40 from the 1950s, but there's nothing old-school about its 260-hp V-6 or the four-wheel drive system with a two-speed transfer case and 2.57:1 low-range gear ratio.
For a complete list of the most fuel efficient cars on the road, head over to our Fuel Efficient Cars section.
*Combined mileage calculated assuming a mix of 55% city driving and 45% highway driving.