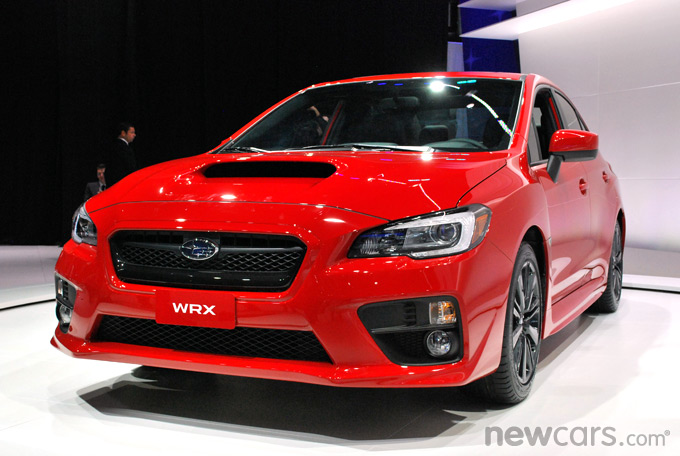 Finally getting an overdue redesign is the 2015 Subaru WRX, which made its world debut at the 2013 Los Angeles Auto Show.
Previous generations of the WRX were closely tied to Subaru's Impreza compact sedan/hatchback, but this latest version of the WRX drops the Impreza name to strike out on its own. However, there's still plenty of Impreza DNA left; the WRX rides on a modified Impreza platform, with matching high sides and an upright stance. The WRX does get 60% of its own exterior parts so it won't be confused for an Impreza, including a hood scoop, rear air diffuser, and a rear lip spoiler. Unlike the previous version, the WRX will only be offered as a sedan; sorry hatchback fans.

Although the two cars share a wheelbase, much has been done under the sheetmetal to strengthen the chassis all-around and give the WRX its own driving character; there are stiffer springs, dampers, and cross-members, with beefier front control-arm bushings and larger anti-roll bars. It all adds up to a 41% increase in torsional rigidity vs. the outgoing WRX, which translates into better handling and performance.
There are also changes under the hood. Power comes from a 268-hp, turbocharged 2.0-liter boxer four-cylinder with direct-injection that makes 258 pounds-feet of torque. This represents a 3-hp increase over the outgoing turbocharged 2.5-liter four-cylinder from last year. The new engine is similar to the one found in the Forester crossover, just with slightly less turbo boost (15.9 psi), a larger intercooler, and a more free-flowing exhaust that gives the WRX a gruffer aural note. A new torque vectoring system joins the standard symmetrical all-wheel drive, allowing for increased cornering speeds and improved handling. The big news though is that in addition to a six-speed manual transmission (which replaces the outgoing five-speed), the WRX will be offered with an automatic. And a CVT at that.
Subaru calls it a 'sport lineartronic CVT' which is a jumble of words that is supposed to indicate that although it's a CVT, it can still be sporty. We'll have to wait to drive it to see if that's the case, but we do know the CVT will come with fuel economy benefits, pushing the WRX up to 30 mpg on the highway when equipped. In regular mode, the CVT will simulate six-speeds but in "sport #" (read: sport sharp) mode it bumps up to eight simulated gears.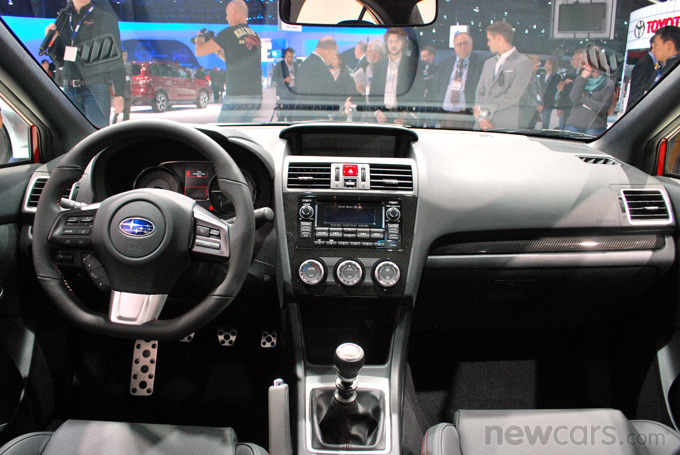 Inside, the WRX takes a leap forward when it comes to materials with less visible plastic and more comfortable seats. Faux carbon fiber accents adorn the dash and center console, and the familiar aluminum pedals can be found in the driver's footwell. A new LCD display is now located front and center in the instrument panel, while above the dash another screen has been added which can display info like turbo boost level, torque split, current or average mpg, and icy-road warnings. The new WRX has an inch longer wheelbase which translates into more rear legroom, a welcome addition.
Though it doesn't bear as much of a resemblance to the striking WRX concept that Subaru brought to the Auto Show last year as we hoped it would, we still see plenty of promise in the new WRX. It's always been a car that's been more about substance that style and our fingers are crossed that the same thing is true about the latest version.