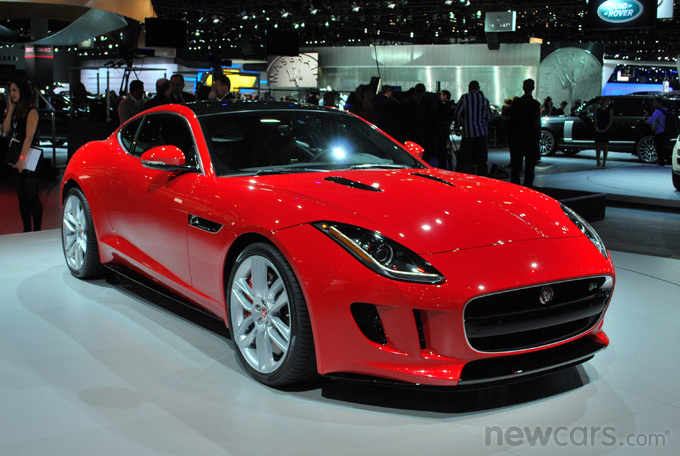 This morning at the 2013 Los Angeles Auto Show, Jaguar pulled back the covers on the new coupe version of its F-Type sports car, revealing what has to immediately be considered one of the best looking cars money can buy.
I walked by the F-Type coupe a few times this morning and each time I passed it, there was an irresistible urge to turn my camera lens on it again, or to stop and marvel. It is breathtaking from every angle, especially in side profile where you can see the shape of the rear windscreen sliding back towards a high rear decklid with a powered spoiler that rises at speed.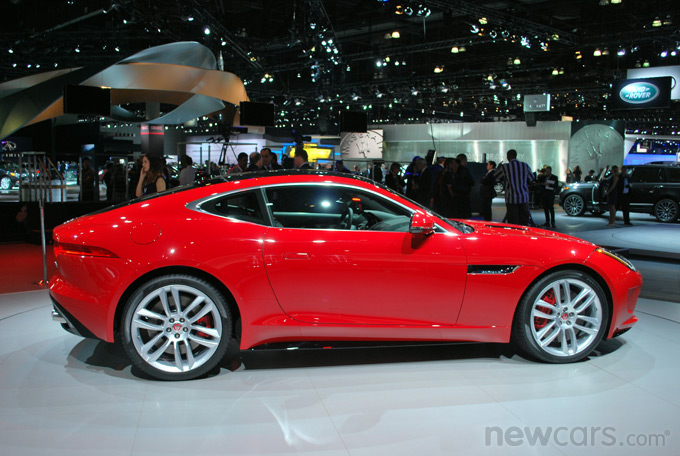 Jaguar announced three trims of the F-Type coupe, the first two shared with the F-Type roadster: the F-Type Coupe and F-Type S Coupe. Both get a version of Jaguar's supercharged 3.0-liter V-6, outputting 340-hp and 332 pounds-feet of torque in the Coupe and 380-hp and 339 pounds-feet of torque in the S Coupe. The third trim is special and unique to the hardtop, the F-Type R Coupe. It gets a supercharged, 5.0-liter V-8 which pumps out 550-hp and 502 pounds-feet of torque, numbers which beat the top trim of the convertible by over 50-hp and 40 pounds-feet of torque. Each engine is mated to an eight-speed "Quickshift" transmission, with steering-wheel mounted paddle shifters. The R Coupe goes from 0-60 mph in about four seconds and runs all the way up to a top speed of 190 mph.
Inside, the dimensions are tight. Though it may be a luxury sports car, the F-Type Coupe is not exempt from a few of the standard two-seat sports car caveats; there's not a ton of space on the inside, as nice as it is, and rear visibility is non-existent. Looking in the rearview mirror is akin to looking down a long tunnel with light at the end of it. The hope I guess is that you'll be driving fast enough to where what is behind you... stays behind you.

This being a Jaguar, the requisite luxury and premium materials are there as expected. Fit and finish is immaculate, with soft touch surfaces all around, even in places where you'd never expect to touch (on top of the dash, the soft touch leather runs all the way up to the windshield). Carbon fiber trim pieces add sporty styling and R models get an embossed letter R on the dash. Above, a massive moonroof lets plenty of natural light into the cabin.
The F-Type Coupe starts at $65,000, with the F-Type S Coupe next at $77,000. The range topping F-Type R Coupe checks in at a cool $99,000 (all prices before destination and handling fees).