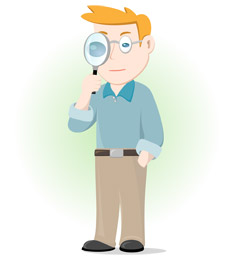 Be prepared to discover a new world. That new world can be a Honda Pilot, a Toyota Prius or a Ford F-150. At this point you might have an idea of what new car will be yours, but until you analyze the pros and cons of each vehicle, that's all you have—an idea. There is a vast sea of new cars out there waiting for you to take them home and only one will be the lucky winner. Just don't be the person who jumped the gun and bought a Yugo 20 years ago. This is an exciting time. This is your chance at a new start with the car you have always wanted. So get in, buckle up and enjoy the ride.
I wish I could say that just thinking about what kind of new car you desire is all it takes, but there are several steps you must take to drive home with the right one. The good news is that all of your research can be done with just a click of the mouse. With the exception of test driving, you can research different cars, figure out your financing, get free price quotes and contact the dealer directly via the internet. More and more dealerships have internet managers that specialize in dealing with the increasing demand of internet buyers.
The best way to narrow down the field is to make a prioritized list of the factors that are most important to you. Some of those factors are:
How Much Money Can You Spend?
The car that you buy must fit into your budget. Just because you want a Mercedes doesn't mean that you can afford one. The next section discusses how to incorporate your new car into your budget. There are tons of great cars out there that can fit your practical needs and aesthetic pleasure.

What Will You Need From Your New Car?
This is the practical side. Fuel economy, towing power, maximum seating, etc.

What Would You Like Your New Car to Have?
This is the fun side. Sunroof, XM radio, leather interior, etc.
Other Questions You Need To Be Honest About
How Much Driving Do You Do?
Do you travel often? Do you spend hours commuting to work every day? Do you like to take your car on road trips? Are you miles away from civilization or friends? Do you want something comfortable, spacious and fuel efficient? If you spend lots of time behind the wheel, it would be wise to get something that is fuel efficient, comfortable and reliable.

Are You an Off-Roading Machine?
Do you live in areas that require more muscle and towing capacity? Are there many unpaved roads? Do you have lots of gear and equipment that you're hauling all over the place? You might have to carry tons of gear for your job or you might need space for your growing family and all of your belongings. 4WD might be a standard feature as far as you're concerned. What are you using your car/truck/SUV for?

How Green are You?
Do you spend tons of money on gas? Would you rather have a smaller car with a smaller engine in order to save money at the pump while maintaining a high resale value? Are you concerned about your carbon footprint? Gas prices are rising faster than Russell Crowe's blood pressure after a run-in with the paparazzi and there's no end in sight. Not every SUV is a gas guzzler and not every sedan is fuel efficient. Use our Car Chooser to check the MPG ratings of your dream car.

Who Will be Driving/Riding in the Car?
Will your husband, wife, mother, father, children, co-workers or friends be driving the car as well? Do you take your dog with you everywhere? If you are sharing the car with someone else, then take into account their style and measurements. If you are picking up the elderly, then you want a car that's easy to get in and out of. If you have children, you want to have enough room and increased safety.

How Safe Do You Want to Be?
Is safety for yourself and other passengers a major concern to you? Do you want a structurally sound car with several safety packages? Airbags, child seat safety and advanced braking technologies are all real concerns. Safety ratings are based on four criteria: crash tests, accident avoidance, rollover resistance and rear-impact protection. Finding out how your car stacks up in these categories will help ensure that you are getting the safest vehicle for you.

Will You Go on a Power Trip?
Some of us love the roar of a powerful engine. The smell of burnt rubber when the light turns green. Do you salivate at the thought of hundreds of horses under your hood? If 0-60 actually means something to you and a car is more than just something to get you from point A to B, then power up my friend!

Does Resale Value Interest You?
Hybrids and certain makes have a higher resale value than others. Honda and Toyota have the best resale value among manufacturers. Even if you don't plan on selling your car in the future, buying a car that keeps its value gives you flexibility and options if the situation should arise.

How Important is Looking Important?
Not everyone can be Magnum P.I. and drive a Ferrari. Not everyone can grow a killer mustache either—but that's beside the point. I would love to have an Aston Martin, but my Kia budget can't accommodate that. Let's be honest, cars can reflect one's personality and status. If you take satisfaction in how your car makes you look, then spending money on the appearance is well worth it.

Do You Like Paying Mechanics?
In a recent survey, 0% said that they enjoy taking their car into the shop. In another survey, 0% said that they love paying for auto repairs. Certain makes and models are known for their dependability and some are known for their tendency to break down like a 15-year old computer. Not only do you want a car that will stay out of the shop and keep ticking for hundreds of thousands of miles, but you don't want engine failure in the middle of Death Valley.
MAKE SURE THAT YOU DO THE FOLLOWING:
Test Drive Three Different Cars
Once you have narrowed your list of features and you have an idea of the type of cars you are interested in—take them out for a spin. Just because a particular car has all of the features you like doesn't mean that you will feel comfortable behind the wheel. Make the test driving day different than the purchase day. That way you can focus on the car and not the financial pressures.
Competitive Bidding
When you know what car you want, you can have the dealers compete for your business without leaving home. Once you have submitted a request for free price quotes, and been contacted by the Internet Sales Managers (ISM) in your area (or out of your area, depending on how far you are willing to go to save an extra buck), tell them that you are doing competitive bidding and you want the "drive it off the lot" price including all of the fees. If they tell you that they don't do competitive bidding, then tell them that they just lost your business and that the next dealer will get your money. The idea behind this is that you can bid the dealers against each other without ever having to visit the lot.
TIP: Check the forecast. Gas prices are on the cusp of $5 with no end in sight. Should you plan ahead?
TIP: What are your needs? Don't ignore them. Sure, we all want the shiniest, coolest car, but you must be somewhat practical. Ask yourself these questions and be honest. Make a list of what you want your new car to do for you.
BOTTOM LINE: There are many variables that go into selecting your next new car. How much you can afford, what you like and what is practical are the most influential factors. No matter how much you like a car, breaking your bank to drive it is the last thing you should do. Be patient, do your homework and you will be happy because a new car no matter what it is, is always fun!