More Details & Photos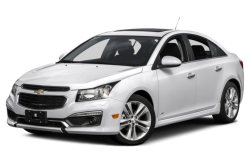 Don't Overpay for Your 2015 Chevrolet Cruze!
Save Time and Money Online When You Shop with Us
Over the past month we helped
97,581 new car buyers

find their perfect car.
Average Overall Rating:
5.0/5
| | | |
| --- | --- | --- |
| Value: | | 5.0/5 |
| Exterior: | | 5.0/5 |
| Interior: | | 5.0/5 |
| | | |
| --- | --- | --- |
| Comfort: | | 5.0/5 |
| Performance: | | 5.0/5 |
| Reliability: | | 5.0/5 |
1 of 1 (100%) of consumers said they would recommend this vehicle to a friend.
| | | |
| --- | --- | --- |
| Value: | | 5/5 |
| Exterior: | | 5/5 |
| Interior: | | 5/5 |
| Comfort: | | 5/5 |
| Performance: | | 5/5 |
| Reliability: | | 5/5 |
my dream car
Reviewed by Chevy Cruze
July 08, 2014
I had a Chevy Colbalt that had a recall on it, I was dealing with another Chevy dealer who was not very understanding. Long story short we got in touch with Joe the service consultant at Serpentini in Orrville and he was so understanding that he made it possible for me to get a loaner car while mine was getting fixed, because I was scared to drive my grandchildren in my car with the recall. While I was turning in my car to get it fixed I met Pete, a sales man and he just asked me how my day was going and we talk a little and then I went home. Joe called me to let me know that my car was finished and I could pick it up the next day so I did. I made an appointment with Joe to get my air-conditioned fixed my husband has COPD so he really needs the air, as I was driving home I thought why am I putting money in this car, that needs more work done than it is worth. So I went home and talked to my husband and we decided to try and get a car. I never thought I would be in a 2014 Chevy Cruze and my color green even, Pet was a great guy he did not push me to make a decisions. We started to talk about what kind of car I wanted and there we are a couple hours later and I have my dream car. Pete took a lot of time explaining my onstar and my radio to me and he left me saying here is my card with my cell phone and Serpentini number call any time with any question. The hole staff was coming by the desk to greet me they were great. I will go back to service my car and I recommend them to everyone that admires my dream car. Thank you very much to you all keep up the good work.
I would recommend this vehicle to a friend: YES
2015 Chevrolet Cruze Sedan Comparison Reviews
*MSRP and Invoice prices displayed do not include applicable gas taxes or destination charges.
Search by Make
Search by Type
Search by Price (MSRP)