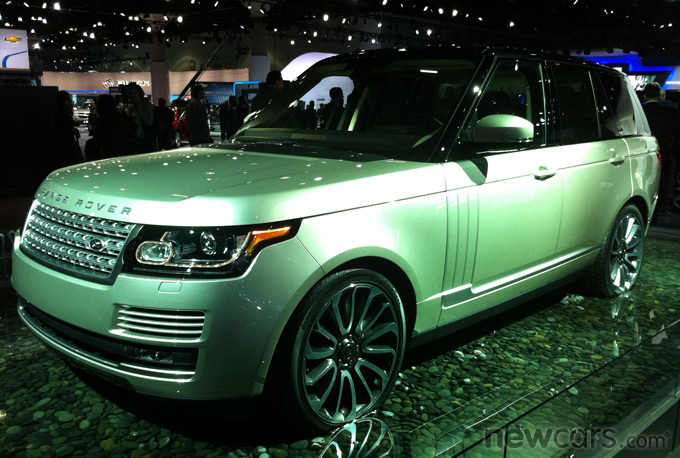 New and Notable:
First SUV with a completely aluminum body frame
Redesigned for 2013
Fuel economy increases by 17%
The all-new 2013 Land Rover Range Rover glides into the luxury SUV market as the world's first SUV boasting a complete aluminum body frame. This 4th generation model weighs in 39-percent lighter, shedding about 700 pounds compared to the previous model's steel frame. This translates into improved handling and acceleration, as well as, most notably, a fuel economy increase of 17-percent to 16 MPG combined city and highway. The base model with the 5.0-liter V-8 producing 375-horsepower zooms from 0-60 MPH in 6.5 seconds. The supercharged 510-horsepower version of this engine makes the same trip in only 5.1 seconds. Both versions of the engines adopted the ZF eight-speed automatic transmission which can be controlled via steering wheel paddles.
The lighter, stronger, faster Range Rover also adds a more spacious, luxurious cabin. Rear seat passengers are truly treated to premium levels of comfort and indulgence with 4.7 additional inches of leg room, reclining seats, power adjustments, massaging function, climate control, and of course a sleek center console for personal entertainment systems and secondary functions. The Land Rover design team continues to exceed luxury standards in the front of the cabin as well with a large 12.3-inch LCD touch-screen display that transforms the main information center into an elegant work of art by reducing the number of buttons, switches, and knobs. Quality and craftsmanship enhance the exceptionally comfortable ride, and the Range Rover's elevated seating position offers an all-around commanding view of the path ahead. We all make that new year's resolution to lose weight but the 2013 Land Rover Range Rover's crash diet sets the bar, improving overall performance and fuel economy. Add in a new exterior and an impressively refined interior, and it's the total package.