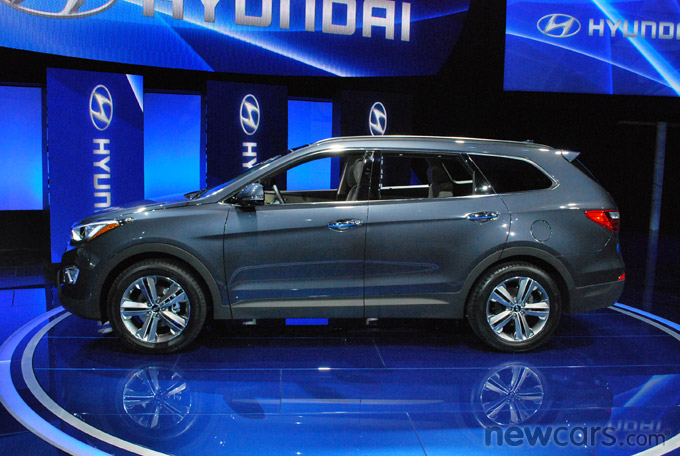 New and Notable:
For 2013, Hyundai split the Santa Fe into two models: Santa Fe Sport and Santa Fe.
Seats six or seven passengers across three-rows.
290-horsepower, 3.3-liter V-6; 5,000 pound towing capacity, new all-wheel drive system available
The 2013 Hyundai Santa Fe got a more extensive redesign than most, unveiling a not only new styling inside and out, but also three permanent rows of seats and added size.
As mentioned above, the Santa Fe was split in 2013 into two models: the smaller Santa Fe Sport which seats five in two rows and the Santa Fe, the big brother of the family, with it seating for six or seven across its three rows of seats. The Santa Fe is a full eight-inches longer than the smaller Santa Fe Sport, which translates into added legroom in the second-row as well as the addition of the third-row.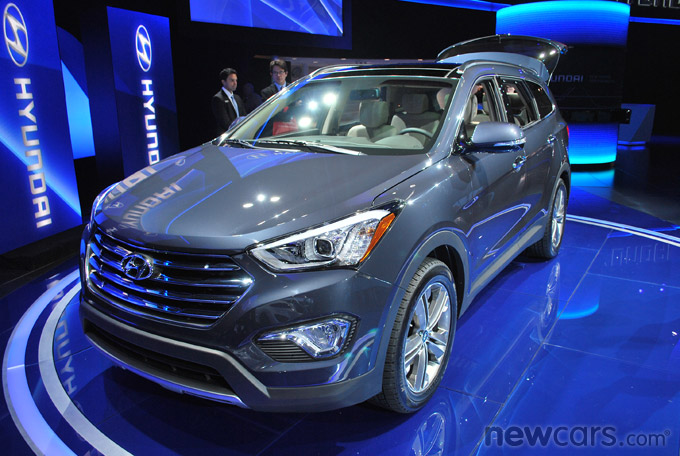 Stylistically, the two are very similar. The Santa Fe gets a hefty dose of Hyundai's fluidic design concept, with the now famliar creases in the hood, a large hexagonal grille, a slippery shape. Due to its added size, the Santa Fe doesn't look quite as athletic as its smaller counterpart, but as a counterpoint looks more elegant with a more conventional rear. Let's put it this way: when the Sante Fe Sport grows up, it becomes the 2013 Santa Fe.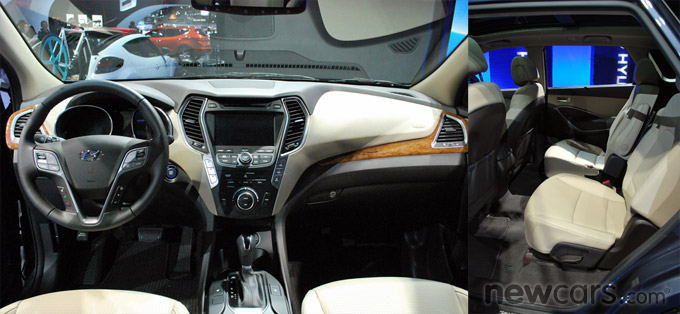 Inside, the Santa Fe's added passenger volume is a welcome addition. We found the cabin to be spacy and comfortable, especially in the first and second rows. However, there are a few (literal) tight spots that we found discomforting. Hyundai claims three "adult-sized" rows in the Santa Fe, but I'm an adult and I had some trouble with its third-row. There is technically more legroom in the third-row than in some other midsize crossovers, but it doesn't account for the fact thatthe floor of the Santa Fe rises when you get to the third-row. So I found my knees up in the vicinity of my armpits when seated back there. There also isn't much cargo room to speak of with the third-row up, to really utilize the carrying space the third-row has to be folded.
If that isn't really an issue and you don't plan on using the third-row regularly, the rest of the Santa Fe's interior is quite nice. The second-row comes as a three-person bench seat or a pair of captain's chairs with a passthrough for rear seat access, accounting for the difference in seating capacity. The new Santa Fe is decidedly more upscale than the outgoing model, offering premium features like HD radio, a panoramic moonroof (seen below), heated front and rear seats, separate HVAC controls for the third-row (also seen below), and a multifunction eight-inch touch-screen display with navigation. We particularly recommend springing for the panoramic moonroof if possible, it is huge and lets in a ton of light that makes the Santa Fe's already spacious interior feel even larger.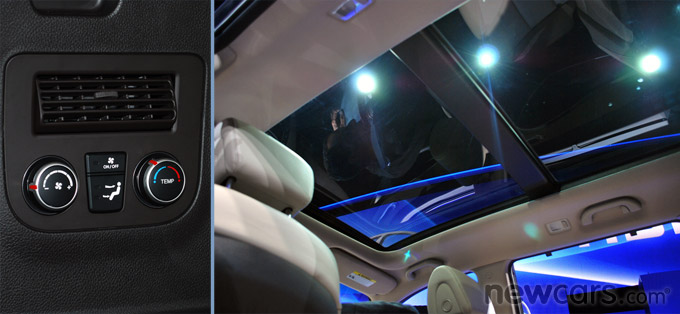 Also upgraded for 2013 was the Santa Fe's powertrain. It now features a 290-hp, direct-injected 3.3-liter V-6 that produces a robust 252 pounds-feet of torque. That engine is mated to a six-speed automatic transmission and towing capacity is 5,000 pounds. Front-wheel drive is standard, but a new Active Cornering Control All-Wheel Drive system is optional and makes its debut on the 2013 Santa Fe. It combines torque vectoring and torque braking, sending power to the wheels where its needed to reduce both under- and oversteer, and helps to keep the Santa Fe stable and confident on the road.
The new 2013 Hyundai Santa Fe is not without its flaws, but we were almost able to overlook them completely because the rest of it is so good. So our last word is this: if you don't plan on utilizing the third-row more than a few times a month, give the 2013 Santa Fe a hard look. But for those looking to transport more than five on a regular basis, we're sorry to say that you might have better luck elsewhere.